THE TOWN QUAY IN LYMINGTON'S MARITIME HISTORY
Ray Mayes writes: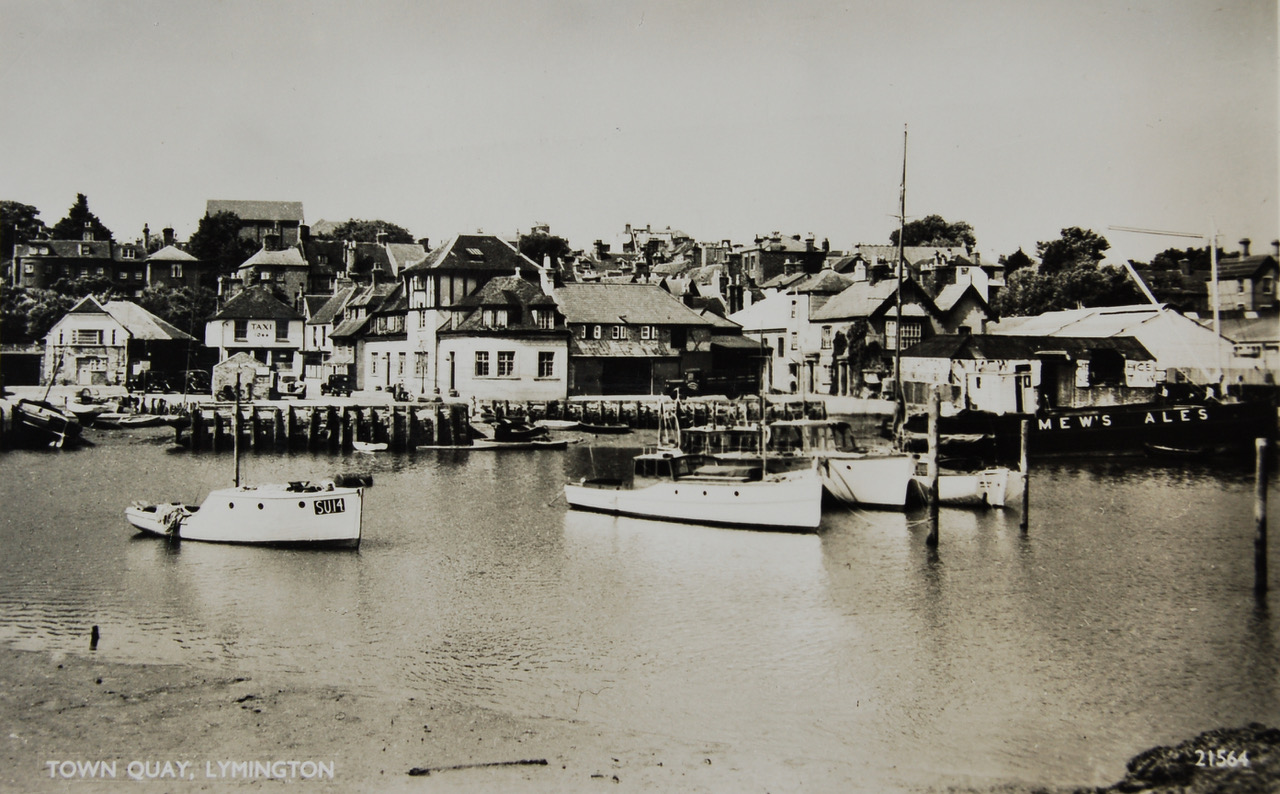 The focal point of Lymington's maritime history has always been its Town Quay.
'The Quay' was mentioned in the 1405 Charter granted by Edward Courtney Earl of Devon, the Lord of the Manor. Anchorage and wharfage dues being collected at that time suggest an already established settled quay area.
Today, walking from the High Street, Quay Hill leads into the cobbled Quay Street. The former pub The Old Alarm was named after the yacht built for Joseph Weld in 1821, at a time when yacht building was taking over from salt as a major industry in Lymington.
An accessible and well-sheltered tidal river estuary gave rise to a heavily used Quay over the centuries. Maritime trade included the exporting of wool and salt while imports for the town and its New Forest hinterland included fish, wine and trade from the continent.
The Quay used to be a bustling area, with sailing ships importing coal and timber and carrying away the salt produced locally. This would once have been a rough and disreputable area.
Present buildings on the quay include The Ship Inn (dating from 1850) and The House on the Quay (once a bakery and shipping suppliers) built in 1675.
In 1900, a rowing boat (the 'penny ferry') would cross from the Quay to the old ferry house on the Walhampton side opposite. Most clients however paid ½ d, which only took them to the jetty behind the railway bridge (opened in 1884). The longer journey by road from town to Walhampton and the Undershore would be across the river along Bridge Road (or toll house causeway).
Today, commercial activity at the Town Quay is limited to local fishing. In World War II, however, the river played an important part in the build up to D-Day (6 June 1944) and the liberation of Europe. In 1944, the River was full of naval craft including minesweeping forces for the allied invasion.
From this point of the Lymington River on 3 June 1944, the 2nd Battalion of the Essex Regiment (known as The Pompadours) sailed as part of Operation Overlord. The Pompadours landed on Gold Beach in Normandy, went on to liberate Bayeux on 7 June, and experienced fierce fighting into Germany until the end of the war.
The above text was originally published in the bi-monthly The Lymington Directory in December 2018, as the first article in the series 'Following the Lymington Blue Plaques trail'.