LOST AT SEA
Bill Basham writes: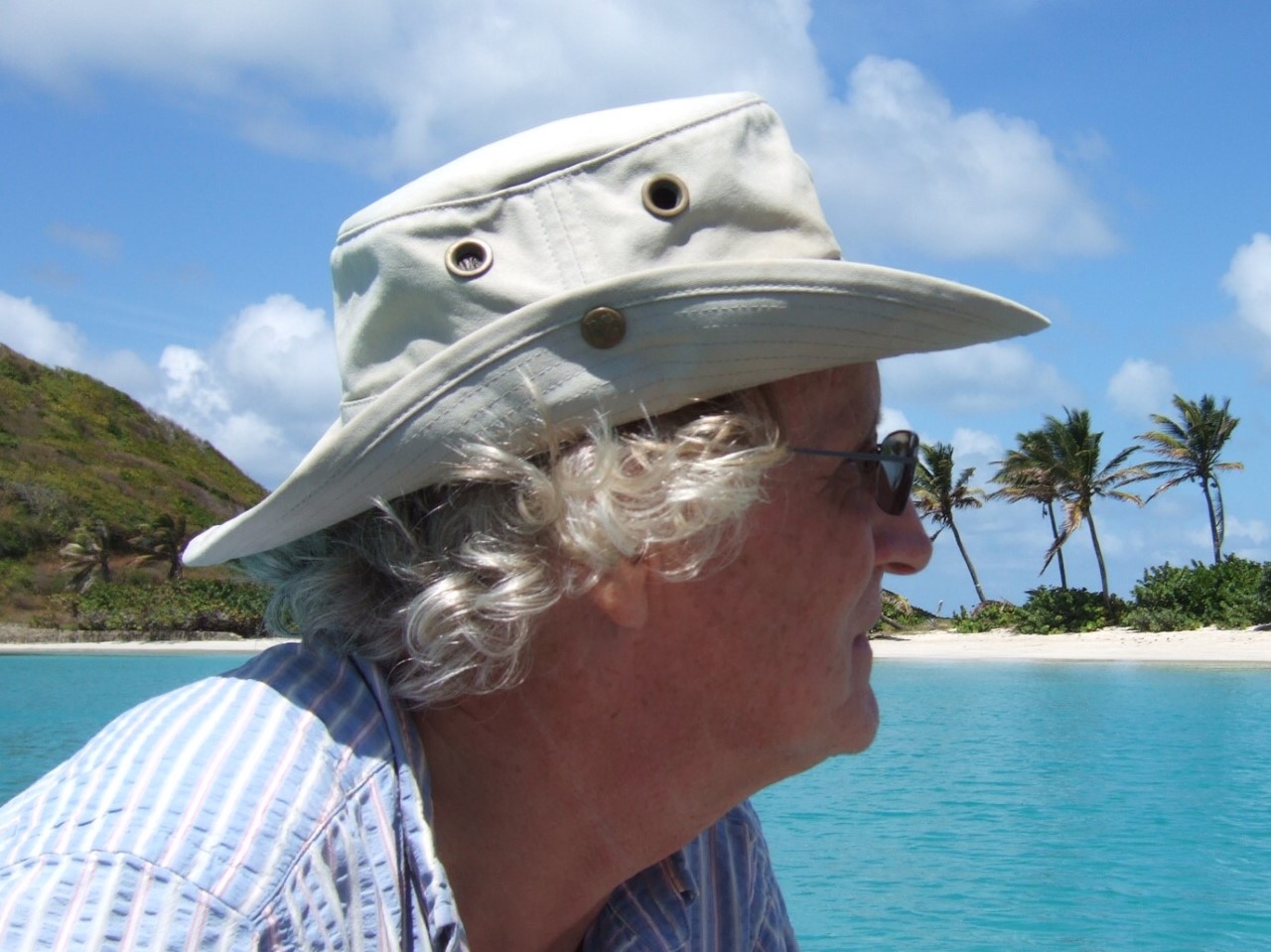 Tilley travel clothing is manufactured in Canada and sold globally online. In Canada, the USA and UK it is also sold through retailers. Known mainly for its hats, the company was established in 1980 by Rex Tilley, a keen sailor, who wanted a hat that would protect him from the sun, wind and sea. And float.
From the outset Tilley customers were encouraged to submit accounts of experiences with their hat, for publication on the company website. The story that attracted most attention was about a hat eaten by an elephant, that was passed out intact a few days later. Strangely no account was ever published about a Tilley hat lost at sea.
To remedy this I wrote the following story late in 2014, which was accepted by Tilley but never published. Subsequently I discovered the company had been sold in 2015 and again in 2017 and that the new management had discontinued the story telling.
I have great affection for my Tilley hat, originally a gift from my daughter, that has been replaced free of charge twice under Tilley's lifetime guarantee. So this is my true story:
On 19th August 2009, I departed from Kastos Island, in the Greek Ionian, to sail my yacht Morangie to Lefkas, where a friend was to join me for an Ionian cruise. As always, my well-worn Tilley hat provided protection and shade from the morning sun.
It was an idyllic day as Morangie headed north at 4 knots in light northerly easterly winds. Sipping a cold beer, I anticipated an easy downwind run once clear of Kalamos Island on our port side. It was not to be. After passing the northern tip of Kalamos, the wind increased suddenly to 40 knots and the sea-state changed from calm to rough.
Rather than reef, I eased the sails and turned west earlier than planned, putting the wind on Morangie's stern quarter. Unfortunately, my Tilley blew overboard in the process.
It took several minutes to down the sails and start the engine. Having done so, I commenced a systematic man-overboard search of the area, hoping to retrieve the hat. Sadly, it proved impossible to locate such a small item in the rough conditions prevailing.
After an hour of fruitless searching, I continued to Lefkas and, a few days later, commenced the planned cruise with my friend.
Two weeks into the cruise, I was telephoned by Petra and Udo, a German couple on a charter yacht. They had retrieved my hat on 22nd August at the southwestern tip of Kastos Island. Noting my name and phone number written under the crown, they had kindly called to ask if I would like it back. Delighted, I said yes and we agreed to meet in Lefkas early in September.
The meeting duly took place and, over a drink or three, my hat was ceremonially returned. Petra, Udo and their children were amused at my obvious attachment to the hat and delighted with the bottle of champagne I gave them to say 'thank you'.
And it transpired that during the three-day period floating in the Ionian Sea, my hat had travelled eight miles southwest, to where it was rescued.
Claims that Tilley hats float are entirely justified.