BEE GARDENS IN THE NEW FOREST
Ray Mayes writes:
When we bought our cottage in Norleywood in 1989, we discovered a legal conveyance dated 1881 describing the land as being part of a larger parcel called "The Bee Garden".
In December 1992 we re-named the cottage "The Bee Garden".
The original cottage had been built in 1929 – apparently one of the last thatched cob cottages built in the New Forest. It was built by Fred and Jesse Smith, the uncle and father of Derek Smith, whose son Adrian carries on the thatching tradition in Norleywood today.
Over the years, the property had been called variously "The Pines" or "Pine View". Before we changed the name back to its original title, we determined to find out the meaning of a 'bee garden'.
Heywood Sumner (1853–1940), the English painter and illustrator, spent much of his life investigating and recording the archaeology, geology and folklore of the New Forest. Sumner reported the local tradition of 'bee gardens' as having been in use in the New Forest well into the middle of the 19th century.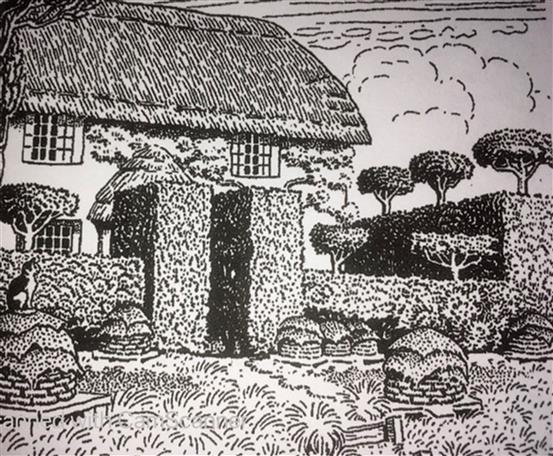 With its vast acres of heathland, the New Forest had long been important for beekeeping and the production of honey. Local beekeepers would send their hives to be placed in bee gardens on the forest when the heather was in bloom in order to enhance the quality of the honey.
'Bee gardens' were small entrenched areas (usually about 5 metres square) with oblong or circular embankments, usually ditched and topped by a hedge as a protection from livestock or theft. These beekeeping enclosures became common over the centuries, although they were strictly illegal as encroachments on Crown land.
Bee pots ('skeps' of woven wicker or coiled straw) were placed on little wooden platforms and covered with straw bee 'hackles' or sacking as a protection from the rain.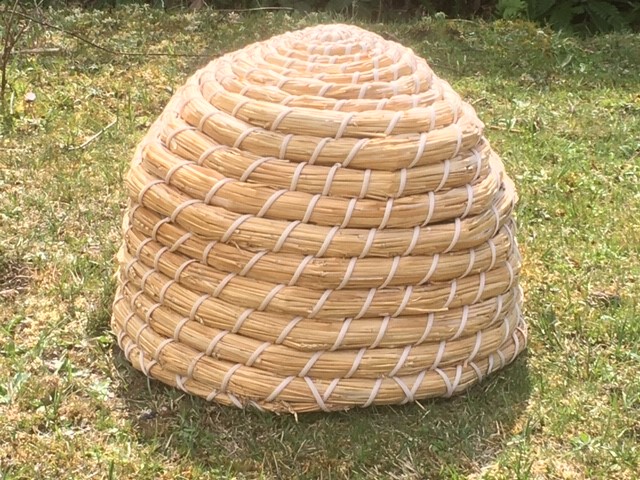 A bee garden would contain a cluster of these skeps standing on their platforms topped with straw hackles.
The existence of bee gardens in the New Forest today is still evidenced by locations and place names such as: Anthony's Bee Bottom (on Goatspen Plain near Holmsley); Hive Gardens or Hive Garn Bottom (near Godshill at Pitt's Wood); Cole's Bee Bottom near Matley Wood; and Bee Bush (or 'Bushes') near Minstead.
In the early 20th century, Heywood Sumner identified a variety of banked enclosures suggesting bee garden sites. More recently, archaeological investigation has been carried out on many earthworks throughout the forest by the New Forest History and Archaeological Group. As well as the northern forest, possible sites have been identified at Beaulieu, Brockenhurst and, closer to home, at Bull Hill in Boldre. Although archaeological evidence of bee gardens has not always been conclusive, they remain an important part of our beekeeping heritage.
We do not keep bees in our 21st century Bee Garden.
April 2020